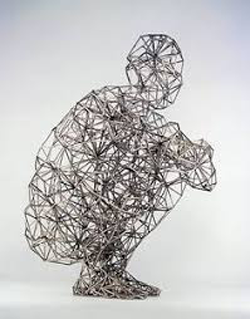 Images copyright T. Flemons 2006
Tensegrity is a created word blending tension and integrity. Based on the principles of tensegrity, our fascial matrix is considered an interconnected tensional network. No longer the idea that we are a stack of building blocks, research reveals bones and tissues make up a dynamic balance of compression (pushing forces) and tension (pulling forces) integrity. 
This tensegrity structure finely attunes and balances itself to its internal and external environment and distributes forces via multidimensional lines of tension to dissipate them throughout the matrix. Any force can influence and create adaptation to any part of the whole, from cells to the entire body through this global fascial network.