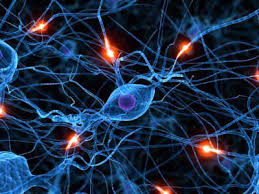 Dr. Langevin has proposed that fascia/connective tissue may function as a previously unrecognized communication system.
She hypothesizes that the connective tissue forms an interconnected cellular network throughout the body and functions as a body-wide mechanosensitive, signalling network. The signals being electrical, cellular and tissue remodelling.
Dr.Langevin proposed signalling is potentially responsive to mechanical forces, movement and posture, and can be altered in pathological conditions such as local decreased mobility due to injury, pain and inflammation. This can then cause a physiological response in neighbouring structures. 
Her studies also indicate that tissue contraction and relaxation may result in a dynamic, body-wide pattern of cellular activity.
For further interest of her research: 
Langevin HM. Connective tissue: a body-wide signalling network? Medical Hypotheses, 2006;66:1074-1077.
Langevin HM, Cornbrooks CJ, Taatjes DJ. Fibroblasts form a body-wide cellular network. Histochem Cell Biol, 2004 Jul;122(1):7-15.
Langevin, H.M., 2009. Fibroblast Cytoskeletal Remodelling Contributes to VIscoelastic Response of Areolar Connective Tissue Under Uniaxial Tension. Second International Fascia Research Congress, Amsterdam.
Langevin, H.M., Bouffard, N.A., Fox, J.R., et al., 2011. Fibroblast cytoskeletal remodelling contributes to connective tissue tension. Journal of Cellular Physiology 226 (5), 1166e1175. ***.
Langevin, H.M., Huijing, P.A., 2009. Communicating about fascia: history, pitfalls, and recommendations. International Journal of Therapeutic Massage and Bodywork 2 (4), 3e8. **.
Langevin, H.M., Storch, K.N., Snapp, R.R., et al., 2010. Tissue stretch induces nuclear remodelling in connective tissue fibroblasts. Histochemistry & Cell Biology 133 (4), 405e415. ***. 
Dr. Helene Langevin, MD, received her medical degree from McGill University and did a post-doctoral research fellowship in neurochemistry in Cambridge, England. Her residency in internal medicine and fellowship in endocrinology and metabolism was at Johns Hopkins Hospital. She is a Professor in Residence of Medicine at Harvard Medical School, Brigham and Women's Hospital, and is also a part-time Professor of Neurology, Orthopedics and Rehabilitation at the University of Vermont College of Medicine. She was appointed as Director of the Osher Center for Integrative Medicine at Harvard Medical School and Brigham and Women's Hospital in November 2012.  In Nov 2018, she assumed office as Director of NCCAM (National Center for Complimentary and Integrative Health, a United States government agency which explores complementary and alternative medicine under the the US NIH (National Institutes of Health)).